Mumia's Life Is On the Line: Mobilize Labor/Black Power to Free Him Now!
Primary tabs
The threat to Mumia Abu-Jamal's life is increasingly ominous. His lead attorney, Robert Bryan, warns: "There is an escalated effort by the authorities to see him die at the hands of the executioner. This is the most dangerous time for Mumia since his 1981 arrest." The U.S. Supreme Court has turned down Jamal's two appeals. If it were to rule in favor of the prosecution's appeal, this would open the way for Pennsylvania governor Ed Rendell to issue a third warrant of execution, which he has vowed to do. Contrary to the misplaced expectations of many, the Obama administration is not about to save Mumia. Around the world, hundreds of thousands have marched for this courageous champion of oppressed. Trade unions representing millions of members have rallied to the defense of Mumia. It is urgent to expand this support into powerful labor/black action, appealing to the integrated union movement to join with the black, Latino and immigrant poor to demand that he be liberated.
Appeals to Obama's Top Cop Eric Holder Spread Deadly Illusions
Mumia's Life Is On the Line:
Mobilize Labor/Black Power to Free Him Now!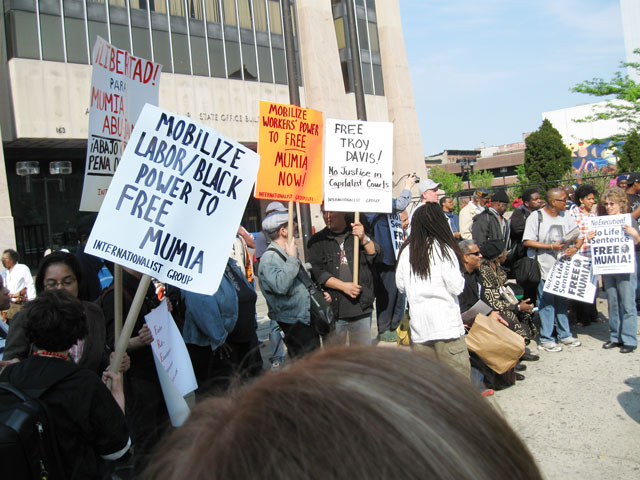 Internationalist Group at Harlem rally for Mumia Abu-Jamal, 8 May 2009. (Internationalist photo)
The threat to Mumia Abu-Jamal's life is increasingly ominous. The former Black Panther Party spokesman, author and world-renowned radio journalist has been held on Pennsylvania's death row since 1982 for a crime he did not commit. After federal district court judge William Yohn in 2001 set aside the death sentence pending a new sentencing hearing, many felt the danger of Mumia's execution was past. Not so. In a November 11 legal update, his lead attorney, Robert Bryan, wrote: "There is an escalated effort by the authorities to see him die at the hands of the executioner. This is the most dangerous time for Mumia since his 1981 arrest." While the U.S. Supreme Court has turned down Jamal's two appeals, it has yet to decide whether to hear the prosecution's appeal seeking to overturn Judge Yohn's order. If it were to rule in favor of the prosecution, this would open the way for Pennsylvania governor Ed Rendell to issue a third warrant of execution, which he has vowed to do. Even if the high court lets the decision of the Third Circuit Court stand, a new sentencing hearing could not rule on Mumia's innocence but only decide between the death penalty or life imprisonment without parole.
Contrary to the misplaced expectations of many, the Obama administration is not about to save Mumia. It is up to us to mobilize in action the wide support internationally among workers, blacks, intellectuals, defenders of democratic rights and opponents of the racist death penalty to prevent them from silencing the "voice of the voiceless."
Mumia was a marked man in the eyes of the ruling class long before 9 December 1981, when he was shot in the chest and savagely beaten by Philadelphia police. He was a thorn in the side of local rulers who run the city with massive police power. Republican mayor (and former police chief) Frank Rizzo warned Mumia in 1978 that "you're going to have to be held responsible and accountable" for his reporting of cop assaults on the predominantly black MOVE organization. Charged with killing police officer Daniel Faulker, Jamal was railroaded in a frame-up trial and sentenced to die the following year. (Democrat Rendell was at the time the district attorney who oversaw Mumia's prosecution.) He has been in isolation on death row ever since, while the cops, the media and the government howl for his blood. But Mumia is innocent. The ballistics, forensics and photographic evidence all contradict the prosecution's claims. Another man confessed to the killing and explained the circumstances, while multiple eyewitnesses saw the killer flee the scene on foot as Mumia sat on the curb, bleeding nearly to death from a police bullet to his lung. Mumia's "crime" is that he survived.
Around the world, hundreds of thousands have marched for this courageous champion of oppressed. Trade unions representing millions of members have rallied to the defense of Mumia. His dispatches from prison ("Live from Death Row") are broadcast and reprinted internationally. He has been made an honorary citizen of Paris. But in the U.S., Jamal has been the object of a bipartisan ruling-class assault. When a suburb of Paris named a street after him, Congress passed a resolution by 368 to 31 condemning this and declaring Mumia a murderer. Many left groups have been calling for a new trial, as if the racist U.S. judicial system would allow Jamal to demonstrate his innocence. With that avenue closed off, they are currently petitioning Barack Obama's attorney General, Eric Holder, to order a civil rights investigation of Mumia's case. Yet Obama supports the death penalty, specifically in the case of "cop killers," as Mumia has been labeled. Now right-wingers are revving up a propaganda barrage with the launching of a sinister pseudo-documentary film, Barrel of a Gun, to retail the web of lies that has been spun to justify the legal lynching.
The case of Mumia Abu-Jamal has come to symbolize the racist death penalty in the United States, a heritage of slavery that is ever present. The Internationalist Group and the League for the Fourth International, of which the IG is the U.S. section, have fought for working-class mobilization, including strike action, to free Mumia. Our comrades of the Liga Quarta-Internacionalista do Brasil, on 23 April 1999 sparked a first-ever work stoppage for Mumia's freedom, a statewide action by the teachers in Rio de Janeiro, Brazil. (They did so again on 7 May 2008.) The next day ILWU dock workers union in the U.S. shut down every port on the West Coast declaring, "An injury to one is an injury to all, Free Mumia Abu-Jamal!" Other unions including Postal Workers, Farm Workers, SEIU, as well as Seattle, San Francisco and other local labor councils are on record in defense of Mumia. It is urgent to expand this support into powerful labor/black action, appealing to the integrated union movement to join with the black, Latino and immigrant poor to demand that he be liberated. Citywide conferences, marches and job actions to save Mumia and demand his freedom are needed, now!
No Justice in the Capitalist Courts: Mobilize Workers Power!
The tight-knit ruling class in Philadelphia is dead-set on the drive to execute Mumia. Every candidate for Philadelphia district attorney in the recent elections swore that he would continue to seek the death penalty. From Mumia's trial judge, Albert Sabo, a lifetime member of the Fraternal Order of Police (FOP) who said within earshot of a court stenographer that he was going to help the prosecution "fry that n——r," on up to the Supreme Court, the courts have done such blatant injustice to his appeals that Mumia's defenders have nicknamed this defiance of logic and legal precedent "the Mumia exception." But this is not an exception, it is the rule: there is no justice for the oppressed in the capitalist courts! And that is doubly and triply true for a black man and fighter for justice targeted by the police, whose racist crimes he has widely publicized.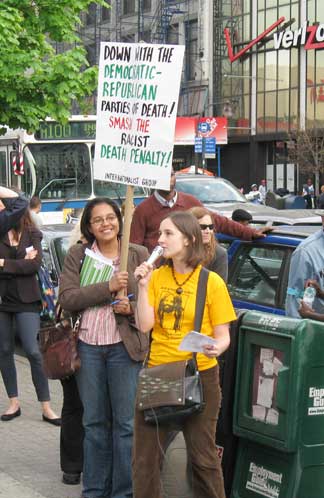 Internationalist photo
At the national level, Democrats and Republicans alike are fiercely loyal to their cops. They will not go against the will of the FOP on such a high-profile case. The multiracial working class, whose cause Mumia has so movingly championed, is his natural ally and has the power to free him and bring down the whole racist injustice system, death penalty and all. Yet standing in the way of the all-out struggle that it will take to stop the execution is the loyalty of many of Mumia's defenders to the racist capitalist state. His former attorneys Leonard Weinglass and Dan Williams refused to present the testimony of Arnold Beverly, the man who shot police officer Faulkner, arguing that it was not "believable" that the police and prosecution would knowingly frame an innocent man – their client! Why not? The cops do it all the time, they even have a name for it: testilying. Solicitous of approval from liberals and bourgeois politicians who believe that Mumia is guilty, various reformist groups preferred to call for a "new trial" in the capitalist courts, rather than simply demand that an innocent man be freed.
This was highlighted when Mumia's lawyers argued an appeal before the U.S. Third Circuit court in May 2007, detailing how police suborned perjured testimony and how blacks were systematically excluded from Jamal's jury. Prosecutors peremptorily challenged 11 of 15 potential black jurors and only 4 of 28 whites, in a city with over 40 percent black population. A district attorney's training video later surfaced instructing Philadelphia prosecutors on how and why to knock blacks off juries. The evidence of racist discrimination in jury selection was so overwhelming that liberals and reformists thought that Mumia's "day in court" had arrived. Jeff Mackler, leader of the San Francisco-based Mobilization to Free Mumia, wrote that "what appeared to be unfolding" in the Philadelphia courtroom was that "the systematic race and class bias" of the U.S. criminal "justice" system was being "set aside" and that "Mumia Abu-Jamal, could win a new trial and freedom" ( "New Trial and Freedom for Mumia?" Socialist Action, June 2007).
However, on 27 March 2008, a three-judge panel of the circuit court turned down Mumia's appeal and called for a new sentencing hearing with only two possible outcomes: death or life in prison without parole. Still, Mackler's faith in bourgeois justice was not shaken. He told National Public Radio on 1 April 2008: "We're confident that the decision of Judge Ambro, who was the minority out of the three… will be upheld." Yet four months later the full circuit court confirmed the March ruling. Commenting later on the appeal to the Supreme Court by Mumia's lawyers, Mackler wrote: "If the Court denies the petition, Mumia's legal options are finished" (Socialist Action, August 2008). And now that the Supreme Court has in fact refused to hear Mumia's appeal, Mackler grasps at straws, praising the "important campaign" for a civil rights investigation by the Justice Department, and opining that Pennsylvania officials might "let the 180-day clock run out" on a new sentencing hearing, leaving Mumia with life without parole (Socialist Action, November 2009). Beyond "second guessing the courts," in which he has repeatedly been wrong, he makes only the vaguest reference to "the struggles of the masses."
The string of legal reverses for Mumia continues. On 6 October 2008 the Supreme Court rejected the appeal for a new trial on the basis of affidavits proving that the prosecution and police suborned perjury and intimidated witnesses in Mumia's 1982 trial. Mumia's lawyers also filed an appeal of the Third Circuit's July 2008 decision, asking for a new sentencing phase of the trial because of the exclusion of blacks from the jury. On April 6, the Supreme Court refused to hear that appeal as well, despite all the evidence that prosecutors had violated the standards laid out in the landmark 1986 case of Batson v. Kentucky, where the court ruled that systematic exclusion of blacks from juries is grounds for overturning guilty verdicts. The Court's delay on the prosecution appeal is likely because it intends to rule first on another case, Smith v. Spisak, of a neo-Nazi from Ohio who ranted to the jury against blacks and Jews and confessed to three hate crime murders. This is bourgeois "justice" in racist America: if the death sentence for the neo-Nazi murderer is reinstated despite misleading jury instructions, then this precedent will be almost certainly used against Mumia, an innocent black man and an opponent of racism.
To be clear: we support Mumia's lawyers using every legal avenue open to them. But for his supporters to raise the political call for a "new trial" is an expression of confidence in the capitalist courts that can only disorient protests. The battle for Mumia's freedom depends on bringing to bear a power greater than racist bourgeois "justice": the power of the working class.
Illusions in the Democrats are Deadly
What's striking in the face of the unrelenting blows Mumia has taken from the courts is the absence of mass mobilizations recently by his supporters. It's not hard to figure out why: it's the same reason that there have been no major antiwar demonstrations for the last two years, even though the war in Iraq and Afghanistan rages on and is increasingly unpopular. The reformist left joined the liberals in placing their hopes in the Democratic Party and Barack Obama. As a result, they now appeal to Attorney General Eric Holder to save Mumia. It doesn't phase them that they are beseeching the boss of the Federal Bureau of Investigation, the same FBI that had Mumia under surveillance since he was 15 years old and whose longtime chief J. Edgar Hoover declared in 1968: "The Negro youth and moderate[s] must be made to understand that if they succumb to revolutionary teaching, they will be dead revolutionaries." This was no idle threat: at least 38 Black Panthers were murdered by Hoover's agents. The FBI rode with the KKK as they gunned down civil rights workers in Mississippi. And now they are supposed to "investigate" violations of Mumia's civil rights? Think again.
Numerous public figures and even some capitalist politicians in the U.S. and around the world have signed their names to petitions calling to free Mumia. We welcome their support for an innocent class war prisoner like Mumia. But it is quite a different matter for campaigners for Mumia to tell people to look to and place their hopes in the capitalist rulers. Yet this is the standard policy of the groups like the Workers World Party and the International Action Center it leads, which are the loudest pushers of the civil rights petition to Holder. Workers World (20 November 2008) declared triumphantly: "The election victory of Barack Obama will go down in history as a triumphant step forward in the struggle against racism and national oppression in the U.S." History hasn't exactly turned out that way, as any Marxist could have foretold. The Internationalist (March-April 2009) headlined: "Obama Presidency: U.S. Imperialism Tries a Makeover," and "What 'Post-Racial' America: Barack Obama vs. Black Liberation." We warned: "Those who looked to the election of a black president to save Mumia could be cruelly awakened from their illusions."
More than a sign of desperation by legalistic liberals and wretched reformists once their hopes in a "new trial" were dashed, this appeal is also a product of misplaced "hope" in the new commander in chief of U.S. imperialism. Although the election of a black president in this deeply racist country represented a significant social shift, his administration and party are pillars of American capitalism, where 40 percent of death row inmates are black and one in nine young black men is in prison. At the NAACP convention in New York last August, where Eric Holder spoke, supporters of the IAC/WWP, the International Concerned Family and Friends of Mumia Abu-Jamal and the Free Mumia Abu-Jamal Coalition held a banner saying: "Obama & Holder/We Need You Now!/Free Mumia." "We need" these Democrats?! The Amsterdam News (16 July) reported that "hope is based on the premise that having a Black attorney general, a Black president" would mean "Abu-Jamal's chances for a new trial ought to be better."
But the premise is wrong. The Democratic Party of Obama also includes the black former mayor of Philadelphia, Wilson Goode, whose police firebombed the house of the MOVE organization on 13 May 1985, killing eleven black men, women and children and destroying over 60 homes in the Osage Avenue neighborhood in the ensuing blaze. The persecution of Mumia Abu-Jamal is due to the class interests of the bourgeoisie, including its few black members. "Black faces in high places does not freedom make," as Mumia wrote in August of last year, analyzing what an Obama victory would mean. He added, "Indeed, in times of Black uprising and mass discontent, Black mayors seem the perfect instrument of repression, for they dispel charges of racism." And as long ago as 2004, Obama has said that killing a police officer (which Mumia was falsely found guilty of) should be "death penalty eligible."
The Obama Administration and Mumia
Significantly, the first black president was endorsed by Michael Smerconish, a reactionary Philadelphia radio commentator who is the most prominent spokesperson for the anti-Mumia lynch mob (he co-authored a book, Murdered by Mumia, with the widow of police officer Faulkner). This right-wing Republican who brags about his close ties to George Bush has made a concerted effort to line up Obama for the execution of Mumia, including in direct conversations. Late in the campaign last year, Smerconish asked the Democratic candidate where he stood on the Mumia case. Obama replied that he wasn't familiar with the details of the case, but added: "So let me just lay out a very clear principle: In my mind, if somebody killed a police officer, they deserve the death penalty or life in prison" (Philadelphia Daily News, 20 August).
When the Fraternal Order of Police interviewed Barack Obama and John McCain, two of its questions were about Mumia Abu-Jamal and Daniel Faulkner. The FOP wanted to be sure that the two senators would have voted for the House resolution it sponsored in 2006 retailing the prosecution slanders of Mumia and condemning the French city of St. Denis for naming a street after him. Obama reassured the cops: "I deplore acts to harm or kill our nation's police officers, and oppose efforts to glorify those who commit such acts." While the FOP endorsed the Republican McCain for president, it lobbied for Eric Holder's confirmation as Attorney General. Holder shortly thereafter addressed the FOP's May 15 "National Peace Officers' Memorial Service," where he issued a chilling warning to "all those out there who would do harm to police officers": "We are coming to get you. You will be arrested, you will be prosecuted, and you will be sentenced to the full extent of the law." While liberals and reformist appeal to capitalist politicians like Obama and Holder, one has to ask, why would the makers of these bloodthirsty proclamations lift a finger to assure a "fair trial" for a man the police swear is a "cop killer"?
Throughout his campaign, Obama reassured the bourgeoisie that he would not do anything to oppose racism. Then in July, when a Cambridge cop arrested Harvard professor Henry Louis Gates Jr., one of the foremost black intellectuals in the nation, for "disorderly conduct" at the door of his own home, Obama at first said the police had "acted stupidly." He was clearly trying to avoid calling the arrest "racist," which it clearly was. But in the face of a firestorm in the conservative and liberal media over this mild rebuke, Obama quickly backtracked. More recently there was the case of White House staffer Van Jones, a black former leftist. For months, rightist bigots led by moronic Fox News commentator Glenn Beck had frothed at the mouth over Obama's "green jobs" advisor Jones. The administration ignored their racist rants, until on Thursday, September 3 it was reported that Jones had once supported Mumia. By Saturday, Jones had "resigned." Since then, the right-wing media frenzy against the "communist cop killer" Mumia has continued (see Linn Washington, "Fox Finds a New Black Boogeyman," CounterPunch, 9 November).
As for Eric Holder, he didn't get to be the bourgeoisie's top law enforcement officer without a solid résumé. Before becoming the Attorney General, Holder was a leading corporate attorney with the firm of Covington and Burling, where he defended Chiquita Brands International against charges of funding the right-wing mercenary army that massacres union members, peasants and indigenous leaders in Colombia. In 2008, Holder filed a "friend of the court" brief to the Supreme Court supporting Washington, D.C.'s ban on handguns. Washington is the home of a majority black population that the ruling class would keep absolutely disenfranchised and powerless and which, like everyone else, has every right to hold arms. "Weapons possession," incidentally, was one of the pretexts for the 1985 Philly police firebombing bombing of MOVE. Today, Obama's Attorney General defends warrantless wiretapping – arbitrary spying on telephone calls without even the fig-leaf of judicial permission – and has called on a federal judge in San Francisco to dismiss a lawsuit against the policy because even hearing the case in court would be "jeopardizing ongoing intelligence activities."
In order to court bourgeois liberals, judges and lawyers who are concerned more with bolstering the pretense of justice in U.S. courts than with Mumia's actual innocence, Jamal's "socialist" defenders first prioritized the call for a "new trial." Now the petition to Holder for a civil rights investigation "cordially" does not say that Mumia is innocent, does not call for him to be freed, does not call for a new trial, does not even demand that the state not kill him! This can only demoralize and disorient those who would fight to save Mumia.
Don't Bow to Capitalist Class "Justice"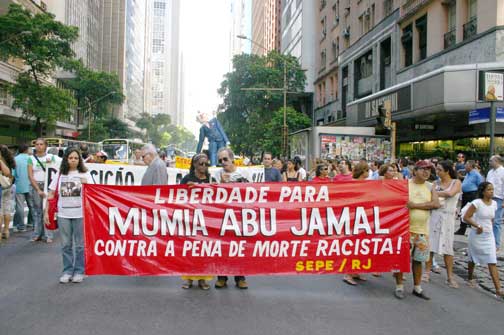 "Freedom for Mumia – Down with the Racist Death Penalty!" Banner of the SEPE teachers union in Rio de Janeiro, April 2008. (Photo: Vanguarda Operária)
The frame-up of Mumia and the fight to free him go to the heart of the nature of black oppression in capitalist America. The racist death penalty goes right back to the system of slave labor on which the American bourgeois republic was founded. It continues today because black oppression can't be overcome by passing a few civil rights laws, which are now being cruelly reversed, or by electing a black millionaire president (Obama's 2007 income: $4.2 million). Over the past century, the Democratic party of Eric Holder and Barack Obama has been the preferred war party for U.S. imperialism, just as it is the capitalists' party of choice for maintaining their racist rule during times of economic crisis, precisely because of the illusions that blacks and workers have that this is "their" party. Who, after all, would want to "sacrifice" for George W. Bush? Black oppression is inseparable from the class question in this country, where the capitalist order rests on the forcible containment of the mass of the black population at the most exploited and impoverished layer of the working class, subject to pervasive discrimination and victimized by a sadistic regime of police brutality and mass imprisonment.
Petitioning the U.S.' top prosecutor to defend the civil rights of Mumia Abu-Jamal shows that his liberal and reformist supporters who previously put their faith in a "new trial" truly believe that Mumia's "options are finished" and are just going through the motions. But the millions who suffer pervasive racist humiliation at the hands of the police, who know by their own experience that the prosecutors and the cops have nothing to do with "justice" or "civil rights" are also those with the power to shut down Philadelphia, New York, Washington, Los Angeles, Chicago and every major city in the United States. One group, the Spartacist League and Partisan Defense Committee associated with it have called to free Mumia and have done valuable work on his behalf, including unearthing the Beverly testimony that proves his innocence. In the past, the SL/PDC called to mobilize the power of labor and blacks to free Mumia. But when ILWU dock workers did so, they sneeringly dismissed it, while remaining silent about the work stoppages for Mumia in Brazil. Today they talk in the abstract of a fight for his freedom "based on a class-struggle opposition to the capitalist rulers." But a real effort to build a workers party to lead socialist revolution, in the U.S. and internationally, means fighting to mobilize workers action to save Mumia. Otherwise it is empty talk.
Like James P. Cannon, the founder of American Trotskyism, we place no faith in capitalist "justice," and all faith in the power of the working masses. Brazilian teachers and West Coast dock workers in the U.S. have shown that working-class action to free Mumia Abu-Jamal is possible. This past July, the ILWU once again called for freedom for Jamal, along with Troy Davis and Kevin Cooper – two other innocent black men on death row – as well as for native American activist Leonard Peltier and the San Francisco 8, former Black Panthers, all of them framed by the government. If in New York City alone the unions that are on record in defense of Mumia were to spark mass labor-black action, it would send shock waves around the country and the world.
The policy of moderation and respectability has led to dwindling numbers at protests to support Mumia at the very hour when militant protest led by the working class is most necessary. What is needed is a loud, clear and urgent call to for the workers to use their power to defend Mumia Abu-Jamal, who is on death row because he forcefully spoke out for working-class and oppressed people, and who has continued to be a powerful voice against capitalist injustice even from his prison cell. The multi-racial working class that makes everything in capitalist society move can and must make the racist judges bow to its power.
For 27 years, Mumia Abu-Jamal has been on death row for being a professed black revolutionary whose courageous indictments of racist American capitalism have earned him the hatred of the ruling class. All defenders of democratic rights, all opponents of racism, all partisans of the working class and the oppressed must now move heaven and earth to free Mumia and abolish the racist death penalty! â–